Special Offers: Spring Deals 2020
Get yourself a bargain as we re-stock for the coming season.
Most offer stoves are Brand New and ex-showroom display models. Most carry manufacturer's warranties. Second hand and used stoves generally do not carry manufacturer's warranty. Your statutory rights are not affected.
Delivery and full installation service available, subject to quote. Contact us.
Free Finance not available with offer stoves. Finance is still available, on the stove and installation, over 12 to 60 months but add 8% to the offer price.
Save £874.00
Half Price!
This top quality free-standing stove has been the live and lit demonstrator in our Tenterden showroom for the last two winters. It works beautifully and we shall still be offering this model new should you prefer a brand new one.
Available at our Tenterden showroom.
Read more...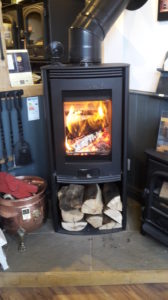 Termatech TT20 ex display - SOLD OUT!
Save £447
This stove now SOLD
3 – 7Kw free standing contemporary wood burning stove, technically rated as "Nominal" 5Kw so no inward air vent required. Great looking stove in matt black colour with 5 year warranty. This is a current model, not old stock, we just need the space for a new line from an additional supplier. Save 25%!
See full details about this stove on the Termatech website