Thank you for your feedback which is always welcome. While it's great to hear the good stuff we're equally keen to hear from you if there is anything that hasn't gone to plan so that we can quickly put it right. A lot of our business comes from customer recommendation and we try very hard to keep it that way!
"Our fit wasn't the easiest to complete or the easiest time-frame but the Kent Stove Company team did a great job. Adam is incredibly knowledgeable and have great advice and direction to help get the job done. Due to the tight time-frame and time of year there was a little sub-contracting done but all to high standard and always under Adam's instructions. Great finish, on time and a very satisfied customer. Would highly recommend!"
Mr Ralph Sheridan West Malling
"We just wanted to say how pleased we are with our new gas fire. Kevin did a really good job of installing it, especially the brick work outside, which we thought would be a bit challenging given the old flue that had to be removed. Overall we have been really impressed with the service offered by your company. I've attached a couple of photos so you can see how it looks". Mr & Mrs Burnett. Lympne, Kent
"Quick and efficient, a friendly bunch, would recommend highly".
Miss Katherine White. Snodland
"Very good service, 2 hours late start but overall very good". [Sorry we were late. Due late delivery from supplier. We did try to ring but got permanently engaged]
Mr Stewart Tonbridge
"Thanks for all your help and an excellent job on my wood stove I'm well pleased. Thank you"
Paul Ruanne, Ashford, Kent
"I cannot praise high enough the quality of the team of workmen your company employed to install the two gas stoves at my and Mrs Hatley's homes. They arrived on time, laid out clean dust sheets everywhere,  were cheerful and showed a no problem, pride in their work attitude all day. They are a credit to your Good Customer Service and complimented the excellent advice my wife and I had received from you at your Paddock Wood showroom when placing our orders. I have no hesitation in recommending your Company."  Colin Brown. Littlestone, Kent
"An excellent service, everyone provided a very professional service, we were kept informed throughout, delighted with the result".
Roger Milbery Maidstone
"I would just like to say thank you for an excellent product and service. We are very happy with our new stove" Thanks.
Leigh Thomas, Woodchurch, Kent
"Pleasant staff, 100% satisfied. Would highly recommend."
P Baldwin Tonbridge
"You did the installation in a very neat and tidy way. We were very pleased with the two man team. Couldn't have been better."
Mr R J Hunt. W Malling
"Just to say thank for all your help in selling and installing the Stoves. They look fantastic. We have lit the larger of the Stoves most nights and the room is finally warm! We haven't lit the other one yet but will do this weekend". Many thanks
A Taylor, Tenterden, Kent
"Three guys arrived and worked hard to put everything in place. Very pleasant! Definitely recommend!"
Alison Kneebone. Maidstone
"Really lovely guys, kept me informed as the work progressed, were very clean and tidy and very knowledgeable about stoves etc."
Mrs Morrison Tonbridge
"It would be difficult to fault this company. The quote was competitive, the advice was clear and helpful and the workmanship was superb. This was not the easiest job to do and it was completed entirely to our satisfaction".
Mr Maurice Barry Maidstone
Just wanted to say a huge thanks to Dan and Kai for the work they did fitting our gas fire, hearth, slate surround and beam. They were both very professional, checking with me every step of the way to ensure I was happy with everything. Extremely tidy, clean workers who went above and beyond to ensure that everything looked perfect. Hard workers who obviously care about what they do
Kathleen Horton, Newington                                                                                        
Despite the wet and wild weather today, our stove was installed. We are extremely happy with choice of burner and can't wait to use it tomorrow evening!
Thank you for providing such great service and to the guys for braving the elements. Really great job.
Amanda & Kenneth Laubscher, Kingsnorth, Ashford, Kent
Thank you so much for your guys for fitting my log burner, they were so thorough and clean and tidy. My husband loved his surprise!                                                Lauren Cook  Shadoxhurst, Kent
"From start to finish could not fault the company. Very polite, helpful nothing was a problem. Kept their work place tidy and always left my house in tip top shape. I told them what I required and they guided me in the right direction. Would highly recommend this company to others."
Mrs Fiona Del Pino Sheerness
"I just wanted to say what a great job the installers did on Tuesday, they were quick and clean and left everything looking perfect. I love the stove and have already enjoyed 2 evenings with it roaring away – I am actually hoping for colder weather for a while! Thanks again"
Mrs Goodman, Hamstreet, Kent
"Very pleased with advice given and standard of work on completion." Mrs Terri Daters Tonbridge
We would like to say how pleased we are with the fire and the surround. It suits our living room very well and is a lovely feature. Several people have already commented on how nice it is. Obviously looks are not the most important thing with a fire and we have been impressed by the heat it gives out and by the ease of use. The advice your company gave us was very helpful and the process of installation went well. Thank you, your son and the team for all your help to find and install a suitable fire.
Kind regards, Pam Calvert.
"I have recently had a wood burning stove installed by this Company. They are extremely polite and very tidy. They are very reliable and nothing was too much bother for them. I was able to discuss my requirements with them and I showed them a picture of the look I wanted to achieve. They were able to source an oak beam for me and I am so pleased with the final result. I would not hesitate to recommend Kent Stove Company".
Mrs Gemma Stratford Gillingham
"Thank you! We are very pleased with our fires."                                           David Lancaster. Nr. Woodchurch
"Excellent service. Very happy with their work and result."
Jerry Ostrowska Warlingham
"Very professional and reliable. Would recommend."
Daniel Griffin Tonbridge
Just wanted to send in a message about the lads that fitted our log burner Dan and Kai.
Excellent job done the log burner looks lovely. It was not an easy job for them as the old liner had been cemented in and filled with insulation but they made such a good job of clearing up you would never have known they had been. They were both very professional and friendly, just the people you need to do a job.
Thanks again
Helen Harris    Charing, Kent
We're thrilled with our new burner. It really is the bees knees and Tom and Dan did a magnificent job. We truly cannot thank you all enough. It's a dream come true for John who's wanted a burner ever since we moved in 23 years ago!!
Mrs Panting, Sissinghurst, Kent
"Really pleased with end result. Would not hesitate to use this company again."
Ron Pearson Tonbridge
"Great workmanship, very professional, knowledgeable and tidy! Kept us informed at every stage and achieved the exact look we were after. Nothing was too much bother and they were polite and friendly. We are very pleased with our new stove and would highly recommend."
Mrs Kent Tonbridge
"Fantastic service. Superb survey and advice from Nevil in the Tenterden shop, to faultless and speedy installation by Adam and his team. Recommend without hesitation."  Mark Raczkowski, Rye, East Sussex
"From initial contact through to installation Adam and the team at The Kent Stove Company have been excellent. We had already decided which wood burner we wanted and Adam clearly had a good knowledge of the product when questioned about suitability. Survey arranged no problem and once we had accepted the quotation installation was swiftly arranged. The installers happily answered my questions as they were working their way through the installation process. Loved the way they light a small fire at the end to demonstrate the controls. All three members of The company we had contact with were a credit to their company and I can't recommend highly enough".     Dick Dorward, Sevenoaks
"As described, very good burner works well, rang them a few times and they always got back to me."
Deb Jefferey Gillingham
"Remove old fire place, fit new wood-burner. Highly recommend. Friendly, clean and efficient."
Miss Homewood Tonbridge
"Your fitting lads were first class.  very efficient, tidy, clearly knew exactly what they were doing.  Very impressed."           Lesley Taylor. Rye. East Sussex
This is the supply and installation of a double-sided stove for Mr Milbery of Maidstone (above). It included building modification and "breaking through" to form a back-to-back double opening and supply and installation of the double-sided wood burning stove shown.
Survey, planning, building work, chimney lining, supply, installation, testing and certification were all carried out "under one roof" by The Kent Stove Company.
"An excellent service, everyone provided a very professional service, we were kept informed throughout, delighted with the result". Roger Milbery Maidstone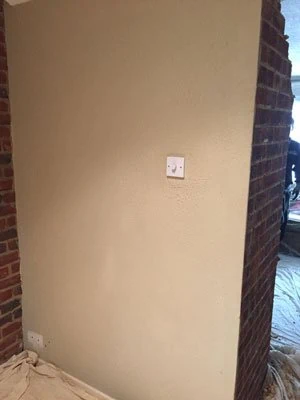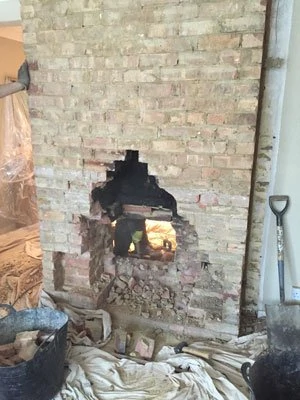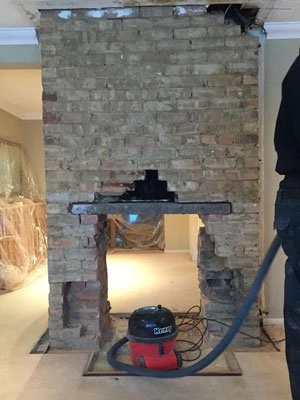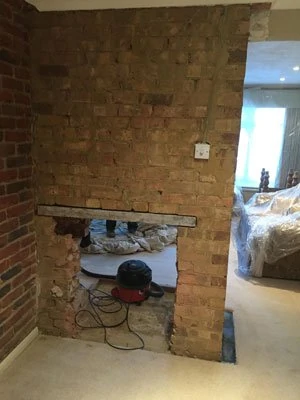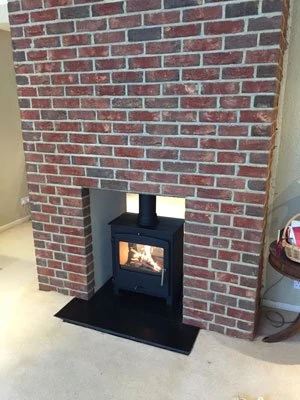 "A very competent and efficient service throughout the installation."
Mr N Tester Kent
"Excellent."
Fren Alder Faversham
"No problems, no mess, nice lads, good demo. I would recommend them any-time. One problem – I also had to pay! I'm happy. Philip."
Mr Philip West Malling
"You turned up when arranged, all work carried out well and cleaned up afterwards, overall very satisfied with work, would recommend".
Mr Colin London-Latter Sevenoaks
"Very friendly, through and knowledgeable service – extremely pleased."
Jane Hopkinson Sittingbourne
"Very good team, all up and running quite quickly. No fuss, not much mess. I would recommend them anytime."
Philip Barwell W Malling
"Efficient, timely, polite and knowledgeable. Work completed to high standard."
Fred Pink Tonbridge
"Very efficient and pleased with the work they did."
Ray Smeed Rochester
"Adam and his team were on-time, polite and courteous throughout. Adam came to see me in advance to go through the installation and get me a number of quotes for the fireplace and hearth. We were going to go for a standard granite hearth, but having had wood floors installed, he suggested we go for tempered glass instead. I'm so glad he convinced us to go with this; it looks amazing. Adam arrived early afternoon and stayed late to make sure the job was done. No mess left behind, and he even gave us a demonstration of how to use the wood burner. I wouldn't hesitate to recommend his services."
Mr Simon Mckay Tonbridge
My log burner was installed today and I am very happy with it.  The two men who did the work were very helpful, polite and cleaned up everything.  They explained everything to me and made sure I had all the paperwork I needed.  Please thank them for me I was very impressed with them both and the customer service they gave me.
Thank you for your excellent service and I am very pleased that I decided to use a local installer having seen the shop in Tenterden when I recently moved in.  With many thanks                                                                 Lizzy Smith. St.Michaels, Tenterden
"Excellent service provided, very helpful and qualified, very commendable."
Stephine Hibbs Tonbridge
"Very pleased with the result. Would certainly recommend."
Mr Jack Oclee-Brown Tonbridge
"Excellent service, very professional and courteous. Would use again."
Samuel Minter-Frier Tonbridge
"Thoroughly reliable company, extremely professional and an excellent job completed."
Mr Bobbett West Malling
"Their work was very good".
Mrs Howard Tonbridge
"Highly recommended, friendly and efficient"
Mrs Spurgeon Dartford
"Very professional and conscientious. High standard of workmanship"
Mr Hoskin Tonbridge
"Fantastic quality stove great friendly service."
Mrs Baker Tonbridge
"All excellent!"
J. J. Yardley Tonbridge
"Very good service and I believe the business will be a successful business. Good communication, really pleasant people."
D Pearson Eastbourne
"Couldn't recommend these guys enough – John and Adam's experience and knowledge was vast. They went out of their way to help come up with something to suit my house and budget. They managed to bring forward the install date. Guys installing did a spot-on job and were very considerate and accurate. They worked hard and got it completed in a few hours to a high standard. Glad I chose the Kent Stove Company".          Robert Westpfel. Kent