A chimney lining insures a safe, sealed path for burned gases and smoke from your stove to the outside air at the top of your chimney stack. It also insures the best performance from your stove, matching the flue size to the stove outlet.
The liner is a flexible stainless steel tube, commonly 5" or 6" diameter, that is that is fitted to the inside of an existing chimney. A cowl is fitted to the top, usually with a rain cap and a bird guard. The bottom end is connected to a rigid flue pipe which connects to the outlet from your stove. This rigid pipe passes through a register, or closure plate which seals off the chimney, preventing heat loss upward into the chimney cavity and guards against any soot or debris coming down the chimney.
Connecting a new stove to an existing chimney lining
UK building regulations stipulate that when installing a new wood stove, a new chimney lining should also be installed, "unless the metal liner can be proven to be recently installed and can be seen to be in good condition". On seeking clarification from HETAS on the definition of "recently installed" they advise that there should be written evidence that the liner has been installed in accordance with current regulations within the last three years and be seen to be in good condition.
See this link to the regulation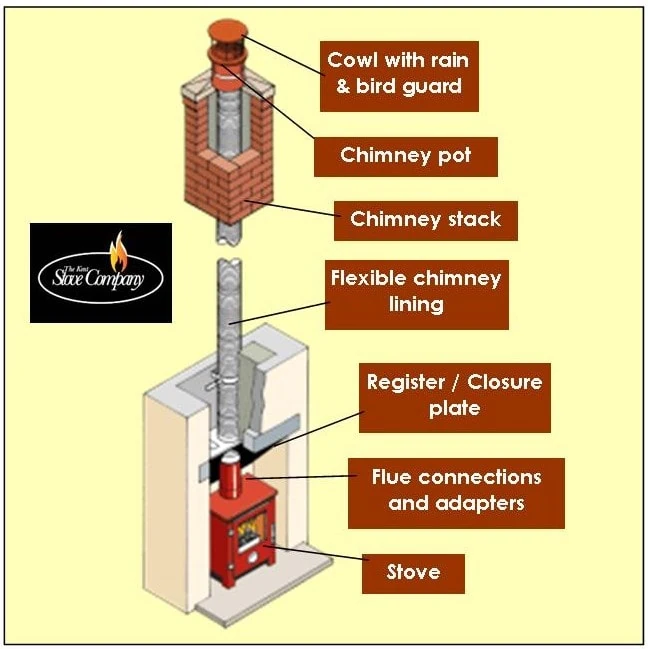 We can supply and install all types of liner suitable for your stove and chimney. Installation of the liner and associated fittings usually takes around half a day, depending upon chimney length and accessibility.
Nearly all installations can be carried out with ladders alone. There are occasions however where either scaffolding or a cherry picker are required, both of which we can arrange.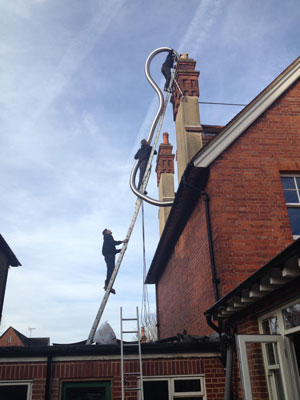 No Chimney, No Problem: Twin-wall Flue Installation
If you don't have a chimney but still would like a stove, we can supply and install an insulated flue system for you. This is a rigid stainless steel "pipe within a pipe", with a layer of insulation in-between, usually 5" or 6" inside diameter.  This "Twin-wall" flue forms a full chimney system for the stove.
The twin-wall flue connects to the stove outlet and can be routed either inside your building through ceilings and roof, or through the wall behind the stove to run up the outside of the building. Where the flue routes inside the building it will generally have to be boxed or caged-in in bedroom or loft spaces. This generally results in a box section of around 12" / 300mm square.
The flue's natural state is a stainless steel silver finish. At extra cost it can be powdered-coated in black. This is a process where the black finish is baked on at the factory for durability.