Gallery of Fireplaces recently installed by The Kent Stove Co
One of our main suppliers of Mantels & Fireplaces
Another supplier of ours with big selection of Mantels & Fireplaces
Call for more information or free survey
Your One-stop Fireplace Specialists: Fireplaces Supplied, Modified, Built, and Installed
For further advice please get in touch with your nearest showroom. Once we know we know what you're looking for we can arrange a home survey to make sure it's all possible, and can then provide you with options and a written quote.
Try this online virtual fireplace designer from one of our main suppliers, Capital Fireplaces. It helps you visualise how things might look for your installation. There are sample stoves and you can alter colour schemes to match your walls and floors along with different hearths and other features.
Then either follow the onscreen instructions to save your design as a PDF or press Ctrl and PrtScn (print screen - this saves what's on your screen). Then you can paste it into a programme like Word and save it. Or paste it into an email, press Ctrl V, and send it to us.
If you have an existing fireplace it may be possible to transform it to accommodate a stove, open fire or a gas or electric replacement. See some of the examples below that we've carried out recently.
An interesting job we completed in East Kent last year. The old brick fireplace was removed ready for a wood stove installation.
Because the fire chamber wasn't deep enough, the inner skin of brickwork was removed and a new outer skin built on the outside to maintain cavity wall protection.
The fire chamber and chimney breast were then plastered, and a new granite hearth with a classic stone surround and mantel were installed. Finally a Purevision traditional style wood burning stove was supplied and installed.
The old fireplace and surround removed, the fire opening modified and plastered, a new hearth and a contemporary style Stovax Vogue Midi wood burning stove installed with a flexible liner into the existing chimney.
More simple "Hole in the wall" fireplace modifications we've completed recently:
Double-sided Fireplace and Stove
There was an existing fireplace with chimney on one side but the customer wanted something to serve both rooms. The existing fireplace was broken through to the other side and a Portway 2 double-sided stove installed.
Classic Stone Surrounds and Mantels
Stove and fire chamber finish
Heat resistant render
The fire chamber surrounding your stove can be finished in a heat resistant mortar based render, usually a mix of cement, sand and lime, which gives the mix greater flexibility and heat resistance. This can be decorated in a water based emulsion paint.
The chamber should not be plastered in a normal skim finish "Thistle" type plaster which will crack and break down with heat.
Chamber linings
An impressive alternative is to line the chamber with bespoke chamber lining as shown. The lining is available in a number of designs and is only 35mm thick, so does not reduce the chamber size significantly.
To see the full range please visit our supplier: Capital Fireplaces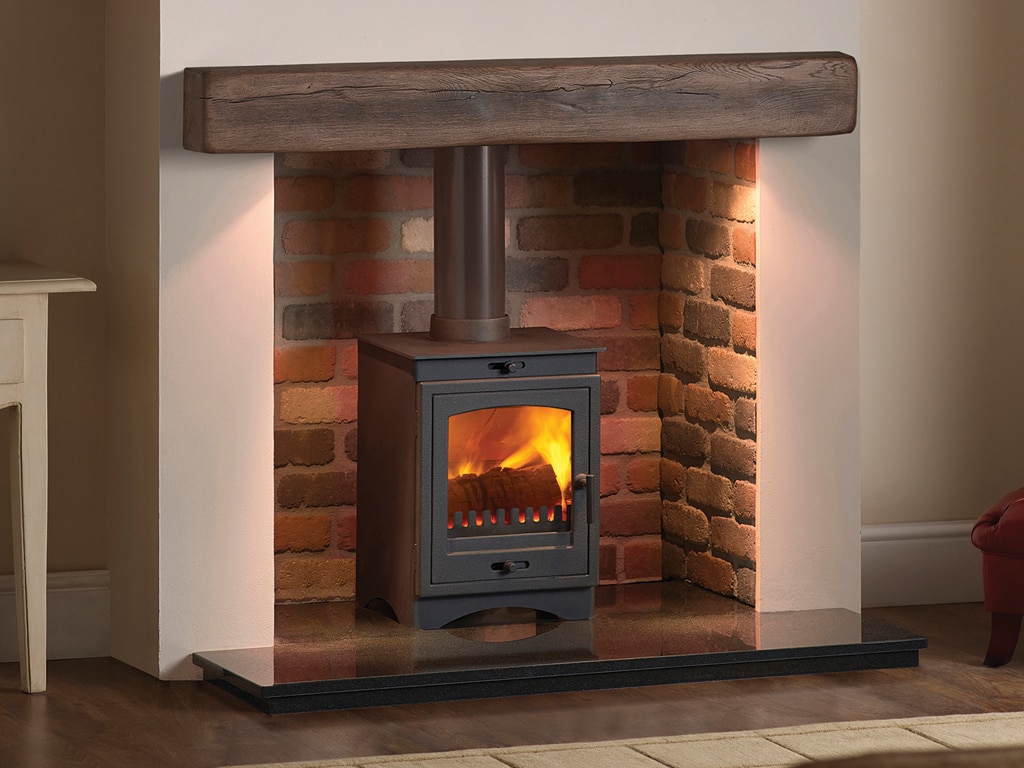 This Red brick chamber lining is from the Capital range. A Rustic Herringbone version is shown in the examples below. See full range
No Fireplace? No Chimney? No Problem!
This was an outside wall on a modern house but with no chimney. A stone hearth was built and a chimney breast created with block-work and a herringbone brickwork lining (see above). A concrete lintel faced with a real oak bressummer beam was fitted and the chimney breast continued to ceiling level.
The wall was then plastered and finished and the stovepipe connected to a twin-wall chimney system which passed through the wall and up the outside of the building. The stove pipe can be in black but this adds to the cost.
Gallery of Fireplaces recently installed by The Kent Stove Co
One of our main suppliers of Mantels & Fireplaces
Another supplier of ours with big selection of Mantels & Fireplaces
Call for more information or free survey