Put the finishing touches to your installation with a timber mantel beam. You can choose a style in solid oak, made to order in a choice of finishes and sizes as required. Samples are on display at our showrooms.
(All images below, with permission from: https://oakfireplacebeams.co.uk/gallery/)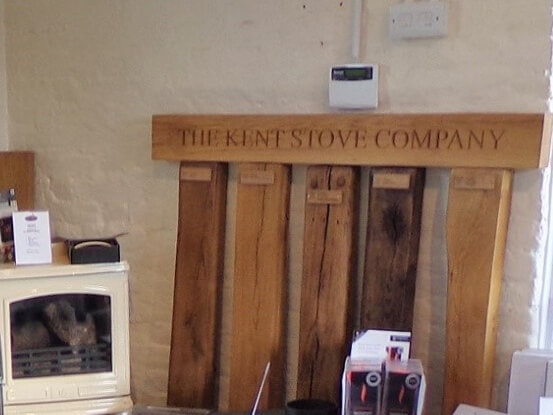 Points to note on real timber mantels
These are real oak and, despite being seasoned and dried, they will still dry out further over the heat of a wood stove. Over time this is likely to cause a certain amount of shrinkage and cracking in the beam.
There are regulations on the minimum distance to combustible materials -like a timber beam - from your stove or stove pipe. This distance varies and is specified by the stove manufacturer for each model. There are ways this distance can be reduced, by shielding or use of insulated flue pipe. We can advise.
Alternatively, a non-combustible beam can be used. See below.
Inglebeam fireproof rustic "timber" beams
For a more rustic style of fireproof beam see the Inglebeam range from Newman Fireplaces, another of our suppliers.
As with Capital, this is a showroom site. They do not sell direct retail, so come back to us for a price and orders.
See our Facebook page of photos for many more examples of beams and mantles we've installed recently
Spread the cost of your dream fireplace 🔥

0% apr available, please contact us for more information 🔥

www.thekentstovecompany.co.uk/finance/ ... See MoreSee Less
Wood stove trading are brilliant too ...
Do you have a camera to check out chimneys, also do you apart from wood burners do open fires with a surround please. Many thanks Sue Reeves. Xx
Gary do you know this company xx
Load more