What's going on inside your chimney?
A CCTV inspection is just about the only way to take a close look at the inside of your chimney and discover what may be causing:
Blockages
Leaks
Poor chimney performance
Excessive soot and tar accumulations
It is also a good way to check the internal dimensions of a chimney and discover any structural defects or cracks within the chimney system.
This may be of particular use after a chimney fire where you need to discover the extent of any damage caused and repairs required. Insurance companies may require such evidence before paying out on a policy.
Bee and wasp nests are not uncommon in chimneys. A CCTV chimney inspection may determine their exact location and the best method of removal.
The Kent Stove Company uses the award winning RPS CCTV equipment, with an infra red camera to see and record what's going on inside your chimney.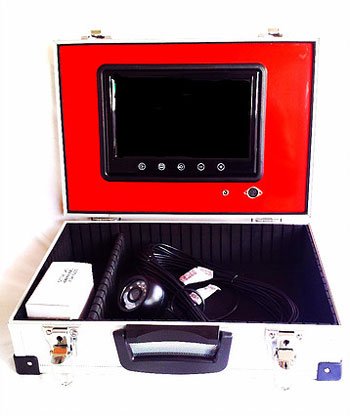 Prices
---
Price for an inspection is in the region of £100 including VAT. The exact price will depend on the height and type of chimney, accessibility, and the amount of recorded data required, e.g. for insurance purposes.
A Chimney CCTV Camera in action
You will see a caption that shows "Breach in feathers to the left". Feathers are the dividing wall between 2 flues in a single chimney stack. I.E. there is a breach between one chimney and another.